What is manual therapy in physiotherapy?
Manual therapy refers to the use of chiropractic techniques that aim to restore normal body movement. It does not involve the use of any device or medication; however, it can complement other non-invasive treatment methods, such as
acupuncture
and radiofrequency
shockwave
therapy
At PHYSIO4U, we carry out a detailed assessment that includes specific tests with specialised movements, so as to identify the point of dysfunction causing pain. While manual therapy has immediate analgesic effects, it does not simply relieve symptoms; it also addresses the cause of dysfunction or injury, as well as the origin of the pain (from the muscles, joints, nerves or bones), treating the problem at its root. Through manual therapy, which is selected on the basis of patient history and clinical diagnosis, we achieve the patient's gradual and full recovery.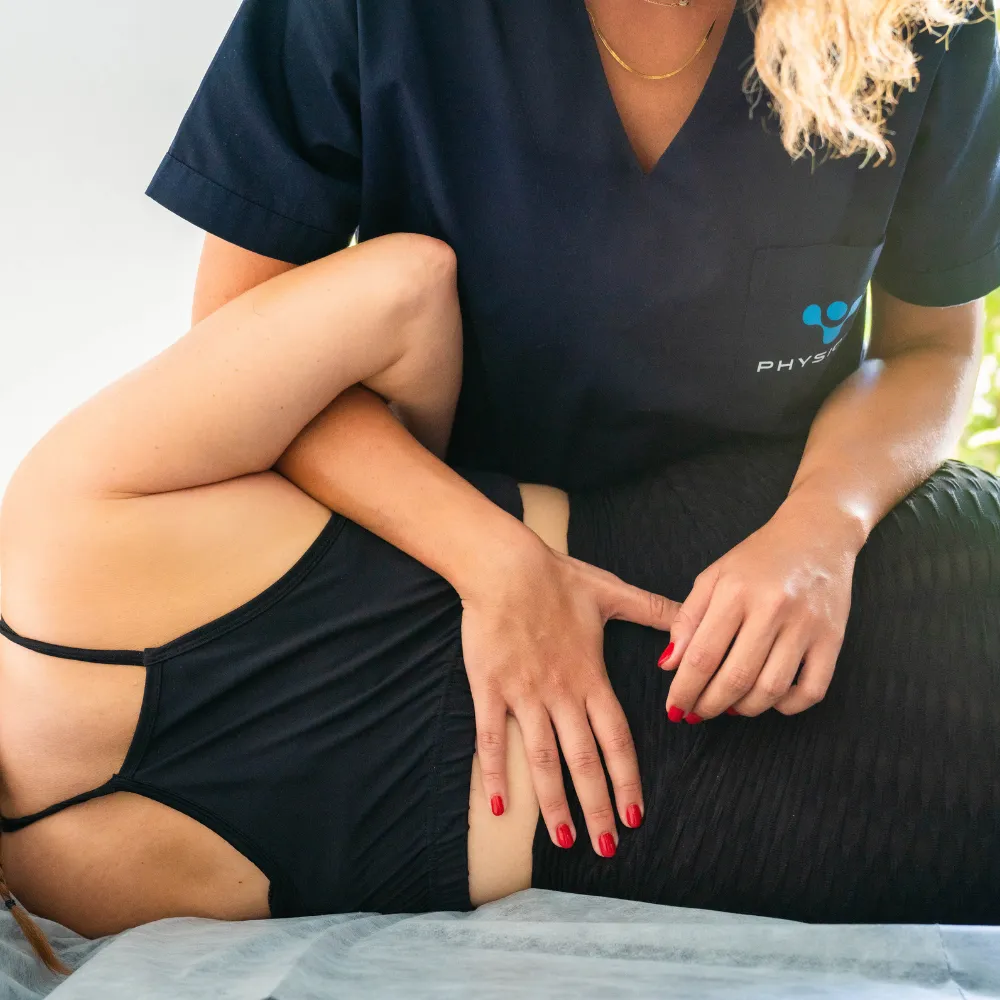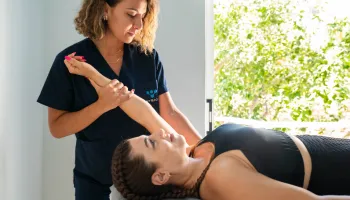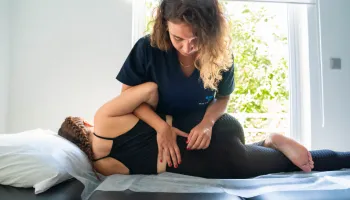 What does manual therapy entail?
In order to set out a manual therapy treatment plan, we begin by carrying out a free initial assessment of the case in question. We review the tests and plan a suitable treatment methodology. If we take on a purely chiropractic approach, then treatment will include therapeutic massage, joint and muscle mobilisation using manual therapy techniques, as well as mobilisation of the nervous tissue (release of trapped nerves).

In addition, we create a personalised exercise programme, aimed at stabilising and retraining the body, so as to prevent a possible recurrence of the existing problem. Finally, we discuss your daily routine at work and during activities, offering advice (ergonomics) for a better quality of life.
For which conditions is manual therapy recommended?
Manual therapy is recommended for spinal and joint conditions, tendinopathies and neurological disorders. Some of the most common conditions that are fully treated or made more tolerable through manual therapy are the following:

• cervical syndrome
•cervicogenic headache and dizziness
• thoracic outlet syndrome
• lower back pain
• osteoarthritis
• rheumatoid arthritis
• epicondylitis (tennis elbow, golfer's elbow)
• Achilles tendinopathy
• shoulder impingement syndrome
• supraspinatus tendinopathy
• patellar tendinopathy
• carpal tunnel syndrome
• trigeminal neuralgia
• facial nerve palsy
• sciatica
• peroneal nerve palsy
• numbness of the upper/lower limbs, etc.

Manual therapy can completely cure a problem and contribute to full recovery or reduce suffering in chronic, incurable conditions, significantly improving the patient's quality of life.
Manual therapy mainly stands out for its safety and effectiveness. As it focuses on the root of the problem, the patient immediately experiences the treatment's therapeutic effects, which are long-lasting.

Manual therapy is essentially painless; even though the first sessions can be challenging, most patients find this treatment soothing. A key advantage of manual therapy is the promotion of a holistic approach, which benefits the patient's physical and psychological state, through the reduction of pain and discomfort.
What you need to know regarding your first appointment
Save valuable time by coming prepared to your first appointment at the PHYSIO4U physiotherapy centre: bring everything that is necessary for us to start your case assessment right away!
Medication
Make a list of the medications you are taking and give this information to your physiotherapist during the assessment.
Recent tests
Make sure you have your most recent medical diagnosis with you, along with the results of any recent tests, such as x-rays, CT or MRI scans, etc.
Comfortable clothing
Wear comfortable clothes, especially in the area of the body that is affected or painful. This will allow the physiotherapist to better access that area and carry out the treatment most effectively. In addition, comfortable clothing will allow you to feel at ease and relaxed during the session.