What are shock waves in physiotherapy?
Shockwave therapy is an innovative rehabilitation method that is widely used in medicine. It is based on the technology of extracorporeal shock wave lithotripsy and constitutes an effective treatment option for musculoskeletal conditions that do not respond to traditional therapeutic methods. Shockwave therapy consists in the emission of low-intensity pulsed sound waves, enhancing movement and reducing pain in the affected area as of the very first session.

The treatment of the affected area consists in the application of shock waves combined with radio frequency, which penetrate directly into the tissues with controlled pressure and frequency. This process activates the body's self-healing mechanisms, accelerating tissue repair and facilitating blood supply, reducing inflammation and swelling, stimulating the regenerative capacity of cells and relieving pain by the third session. As a result, the musculoskeletal problem is rectified and patients experience a noticeable improvement in their daily quality of life.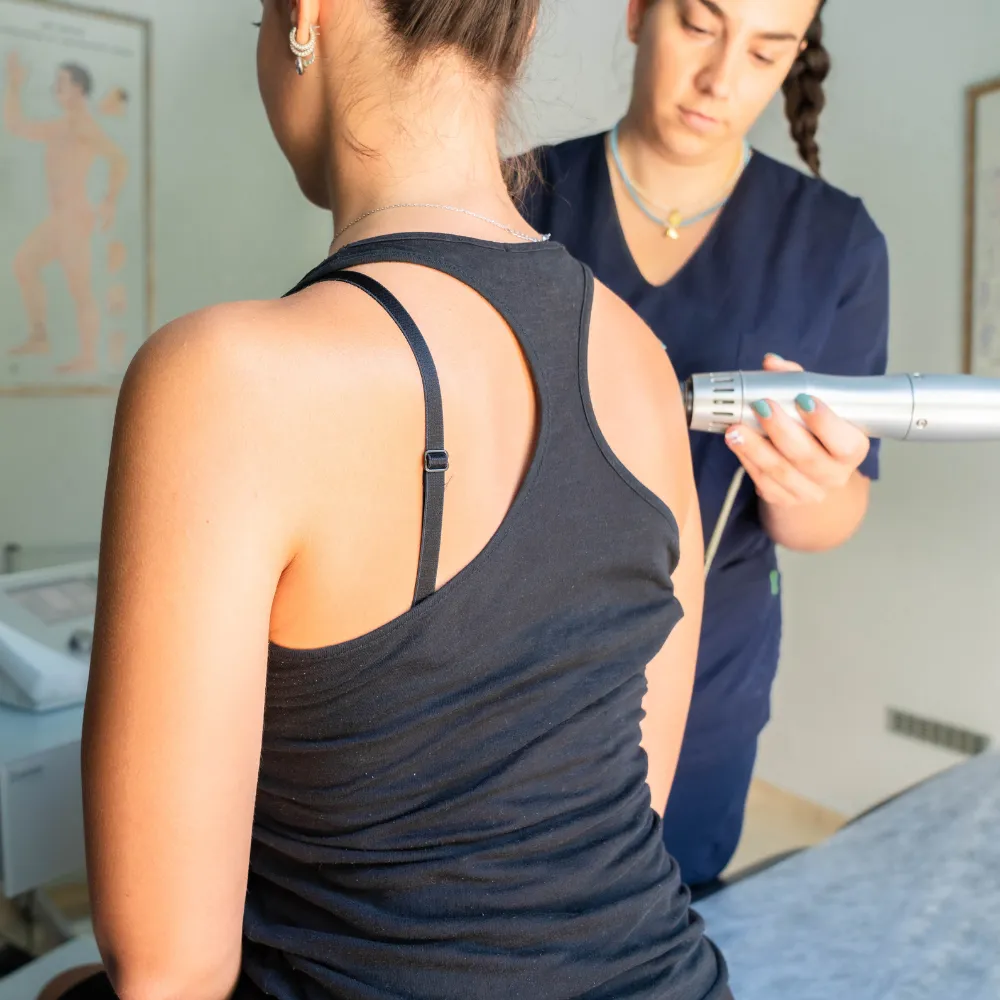 What does shockwave therapy entail?
Shockwave therapy starts with a free initial assessment, during which we analyse your case and design a treatment plan. Depending on the individual case, we may combine more than one treatment method, for example radiofrequency shock waves and
manual therapy
, for even better results.
For which conditions is shockwave therapy recommended?
Shockwave therapy is administered at specialised physiotherapy centres equipped with the respective device, such as PHYSIO4U in Rethymno, for the rehabilitation of musculoskeletal conditions, such as:

• shoulder pain
• calcifying tendinitis
• heel spur
• chronic strains
• tennis elbow
• medial tibial stress syndrome
• Achilles tendinitis or Achilles tendon enthesopathy
• the development of scar tissue
• painful myofascial trigger points
• Plantar fasciitis

Shockwave therapy is being used in numerous medical fields, such as andrology and urology, for instance, in the treatment of kidney stones.
Shockwave technology has revolutionised rehabilitation and physiotherapy by effectively treating cases that, until recently, required surgery. Unlike other treatments, this method is non-invasive and does not require the use of anaesthetics or medication; therefore, it has no side effects and the patient's medication needs no adjustment

Shockwave therapy typically requires a few sessions. Session duration is very short – just 5-10 minutes – and, most importantly, the procedure is relatively painless and well tolerated by the majority of patients. What really makes a difference is the immediate pain relief, which can be experienced even by the third session. Shockwave therapy constitutes one of the most innovative tools in physiotherapy and other medical specialties, highly improving patients' quality of life.
What you need to know regarding your first appointment
Save valuable time by coming prepared to your first appointment at the PHYSIO4U physiotherapy centre: bring everything that is necessary for us to start your case assessment right away!
Medication
Make a list of the medications you are taking and give this information to your physiotherapist during the assessment.
Recent tests
Make sure you have your most recent medical diagnosis with you, along with the results of any recent tests, such as x-rays, CT or MRI scans, etc.
Comfortable clothing
Wear comfortable clothes, especially in the area of the body that is affected or painful. This will allow the physiotherapist to better access that area and carry out the treatment most effectively. In addition, comfortable clothing will allow you to feel at ease and relaxed during the session.