Acupuncture is a therapeutic method, used to treat musculoskeletal conditions and chronic pain. Medical and Chinese acupuncture use the same methodology, which is based on ancient Chinese practice. Medical or Western acupuncture is evidence-based and abides by the rules of Western medicine. It is performed on points of the skin that have underlying sensory nerves, the stimulation of which triggers the secretion of endorphins with analgesic properties. On the other hand, Chinese acupuncture is based on the ancient philosophy of balancing the flow of energy in the human body and constitutes a holistic approach to diagnosis and treatment.

By significantly reducing pain through acupuncture, it is easier to proceed to the next steps of physiotherapy and achieve a quicker recovery and rehabilitation, sparing the patient of unnecessary discomfort. In addition, acupuncture promotes self-healing and rejuvenation, enabling people experiencing chronic pain to enjoy their daily lives more.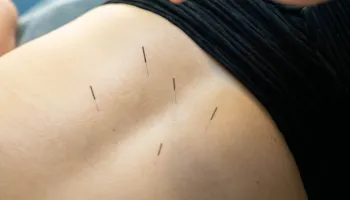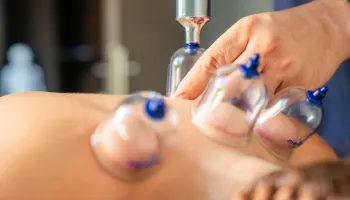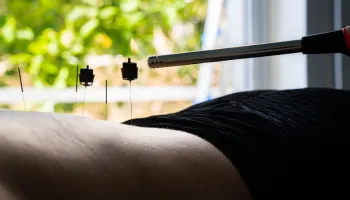 What does acupuncture treatment entail?
Acupuncture at PHYSIO4U includes a free initial assessment of the patient's problem and the design of a personalised treatment plan. Often, we combine different methodologies, for example acupuncture and
manual therapy
, depending on your needs.
During the session, very fine, imperceptible, disposable needles are inserted into the skin for approximately 20 minutes. Even though each case is unique, an average treatment plan consists of two sessions per week for 3 to 7 weeks. Patients start seeing results at the end of the second or early in the third week, at which time we also carry out a progress assessment.
What conditions may benefit from acupuncture?
Chinese and medical acupuncture are both recommended for various conditions, either as part of the treatment or to relieve painful and uncomfortable symptoms. For example, they are used in musculoskeletal conditions such as:

• Back pain
• Osteoarthritis
• Fibromyalgia
• Sports injuries

As well as in cases of patients suffering from:

• Parkinson's disease
• Multiple sclerosis
• Allergies
• Psychosomatic pain
• Erectile dysfunction

Moreover, acupuncture can be employed in a number of general health problems, such as obesity, gastritis, stomach ulcers, dysmenorrhea, smoking addiction, etc.
A significant advantage of acupuncture lies in its ability to enhance other forms of treatment, such as medication and strong analgesics, without negative interactions and side effects. In fact, acupuncture acts synergistically, increasing the effectiveness of any given method of rehabilitation and pain relief.

Furthermore, Chinese acupuncture shows impressive results with regard to long-term wellness and, at the same time, is a completely harmless and painless treatment method. However, it is important to note that, in order to achieve the expected results, both medical and Chinese acupuncture should be performed by specially trained professionals, such as qualified physiotherapists.
What you need to know regarding your first appointment
Save valuable time by coming prepared to your first appointment at the PHYSIO4U physiotherapy centre: bring everything that is necessary for us to start your case assessment right away!
Medication
Make a list of the medications you are taking and give this information to your physiotherapist during the assessment.
Recent tests
Make sure you have your most recent medical diagnosis with you, along with the results of any recent tests, such as x-rays, CT or MRI scans, etc.
Comfortable clothing
Wear comfortable clothes, especially in the area of the body that is affected or painful. This will allow the physiotherapist to better access that area and carry out the treatment most effectively. In addition, comfortable clothing will allow you to feel at ease and relaxed during the session.