What is TECAR therapy in physiotherapy?
TECAR therapy uses high-intensity radio frequencies and is an innovative, non-invasive, radiation-free rehabilitation technique. It is based on the application of targeted molecular vibrations that induce endogenous heat to the affected area, at whichever tissue layer the damage may be located. By combining this method with other physiotherapy practices, such as manual therapy or acupuncture, we achieve a faster recovery.

TECAR therapy -alone or combined with other physiotherapy methods- aims to naturally regenerate and heal injured tissues, offering immediate pain relief and a speedy restoration of motor function. By providing a personalised approach, we guarantee your safety and the effectiveness of your treatment experience through specially tailored methods.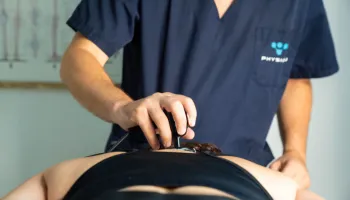 What does TECAR therapy entail?
TECAR therapy includes a free initial assessment of your case and the design of a suitable treatment methodology plan. Each TECAR therapy session lasts from 15 to 30 minutes, depending on the severity of the case. The number of sessions also varies depending on the problem, but usually ranges between 5 to 10 sessions.
For which conditions is TECAR therapy recommended?
At the specialised physiotherapy centre PHYSIO4U in Rethymno, we are equipped with the Winback "Tecar Back 3S" device, which is mainly addressed to athletes, but has a therapeutic range covering numerous musculoskeletal conditions.

"Tecar Back 3S" is used in sports physiotherapy for the rehabilitation of trauma or injuries caused by intense stress. Its purpose is twofold: on the one hand, it promotes the preservation of an athlete's good physical condition and the immediate rehabilitation following trauma, for instance sprains; on the other hand, it serves to reverse the course of an inflammation and repair damaged tissue.

In addition, TECAR therapy is used to treat the following conditions:

• Joint pain
• Muscle pain
• Back pain
• Osteoarthritis
• Rheumatoid arthritis
• Heavy, swollen feet
• Fractures

Finally, the application of TECAR therapy is decisive in both the preoperative stage (to reduce swelling and facilitate surgery) and the postoperative stage (to reduce complications, pain and inflammation), thus contributing to the patient's smooth recovery.
TECAR therapy is completely painless, safe and has no side effects for the patient. This method's effectiveness relies on its targeted application on the affected area and, hence, on the natural activation of biological healing mechanisms in a more direct and effective way.

As of the first application, you will feel a big difference in your body; this therapy will drastically reduce your recovery time and allow you to go back to your daily or athletic activities sooner. As of the first session, pain will begin to subside, mobility in the area will be facilitated and blood circulation will improve noticeably.
What you need to know regarding your first appointment
Save valuable time by coming prepared to your first appointment at the PHYSIO4U physiotherapy centre: bring everything that is necessary for us to start your case assessment right away!
Medication
Make a list of the medications you are taking and give this information to your physiotherapist during the assessment.
Recent tests
Make sure you have your most recent medical diagnosis with you, along with the results of any recent tests, such as x-rays, CT or MRI scans, etc.
Comfortable clothing
Wear comfortable clothes, especially in the area of the body that is affected or painful. This will allow the physiotherapist to better access that area and carry out the treatment most effectively. In addition, comfortable clothing will allow you to feel at ease and relaxed during the session.